---
---
Juan A Martinez, 1997



The adage goes that some artists are like foxes and others are like hedgehogs, the first know many things and the second know one big thing. Jake Fernández has managed to be both in an artistic career that expands twenty years. Although trained as a painter, he has effectively used drawing, collage, photography, and video to create a multifaceted art. At its most ephemeral, his art consists of the use of aliases, actions, and selected objects in a neo-Dada spirit to dramatize everyday life. The other, seemingly more traditional, end of his artistic spectrum consists of an extensive body of paintings, mostly landscapes. It is some of these landscapes that make uthe exhibition Sites and Composites and are the subject of this essay.

Jake Fernández encountered landscape painting at an early age while taking private lessons from Félix Ramos. The combination of youth and studying under a renown Cuban landscape painter must have influenced his early and lasting interest in the subject. Paradoxically, the subject matter itself seems considerably less important than how it is represented. In college, Fernández expanded his knowledge of landscape painting from Giotto to Gorky. Notably, he always approached the art of his predecessors with artistic inquisitiveness, rather that mimicry. Years of living in New York City after graduate school completed his artistic education and led to his first mature works in the early 1980's. Since then Fernández has developed an exquisite mastery over his craft (be it oil, pastel, or photo-collage) and over his own artistic vision He works in a zone between representation and abstraction, the study from nature (aided by photography) and the analysis of representation itself, illusion and mark making. Along these lines his landscapes may be divided into three categories: Sites, Composites and Fields. The first depict a specific site, the second are composites from a site, and the third are undifferentiated images suggestive of vague landscapes.

The current exhibition of Sites and Composites pastels, photo collages, computer prints, and oils offers for the first time the opportunity to appreciate the richness and complexity of Jake Fernández's creative process. He works in series, which he begins by taking multiple photographs of a site, then reproducing and altering the photo-image (s) in pastels and photo-collages. The end result are large oil paintings.

In the Sites series, such as Houston Street Garden and Deliverance, the original photo image(s) remain more or less unaltered as they are transformed into collages, pastels and oils. In the Composite series, like Fugue from the Bridge for instance, the composition of the original photo-mosaic is subtly reconstructed in other media. In both types of series the transposition from photo to collage and pastel, and then to oil is anything but mechanical. He reproduces the original photo image(s) of a site by way of a complex "geometric mesh" that removes and abstracts the image from its source. His artistic process is also far from mechanical as seen in the obsessive hand work that goes into his labor intensive pieces.

At a distance Fernandez's landscapes reassure us with familiar scenes of nature and on closer view the image dissolves into enchanting marks, making our nervous system vibrate. In a few steps we move from the known into the speculative. In the end, the blink of the original photo is turned into a prolonged and meditative look, a calming and rich visual experience.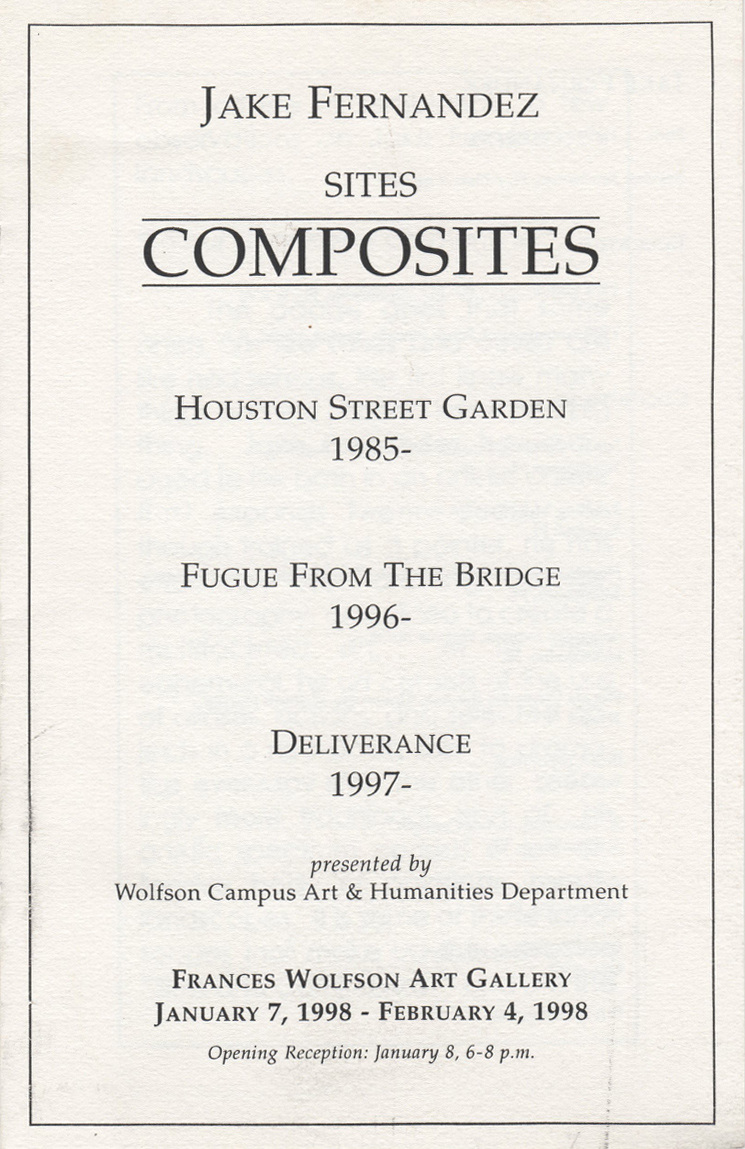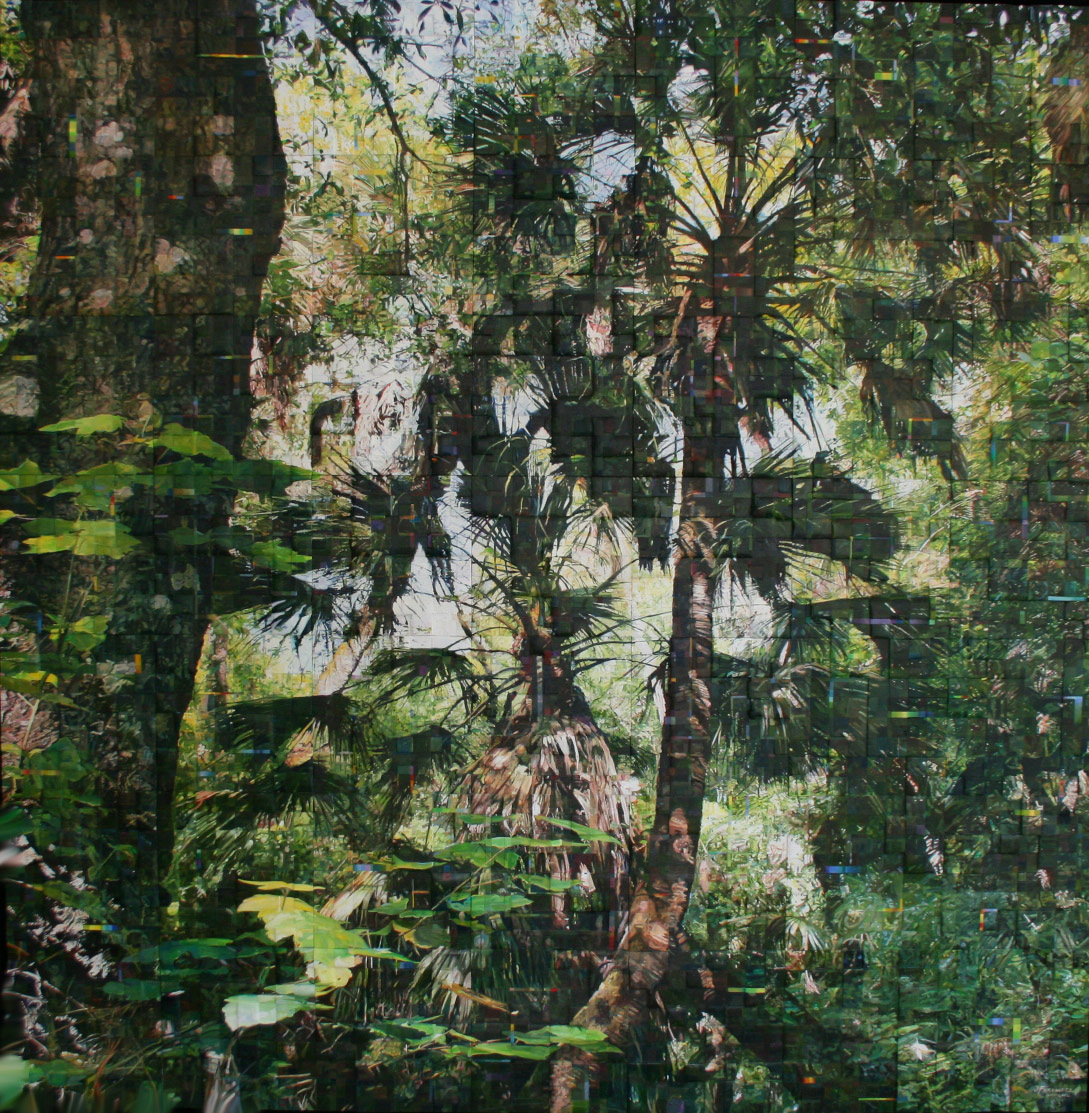 Hidden Mandala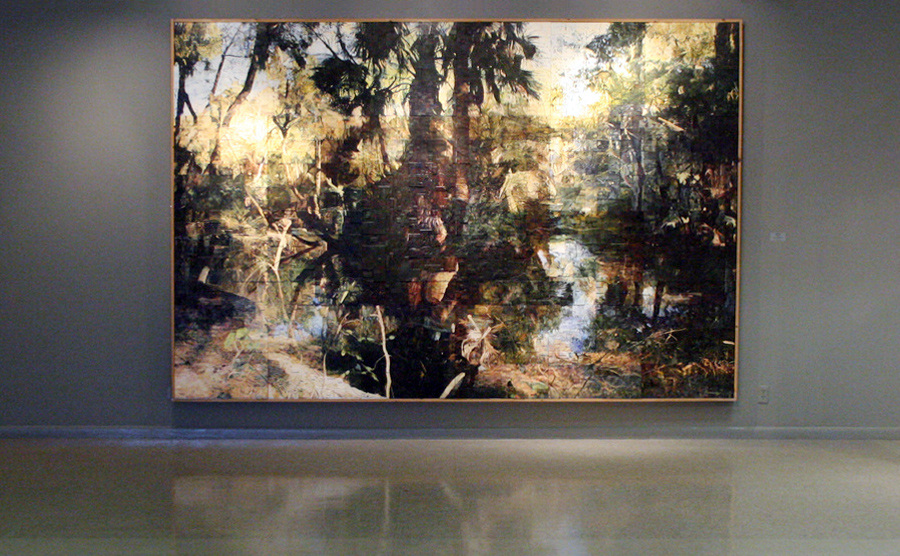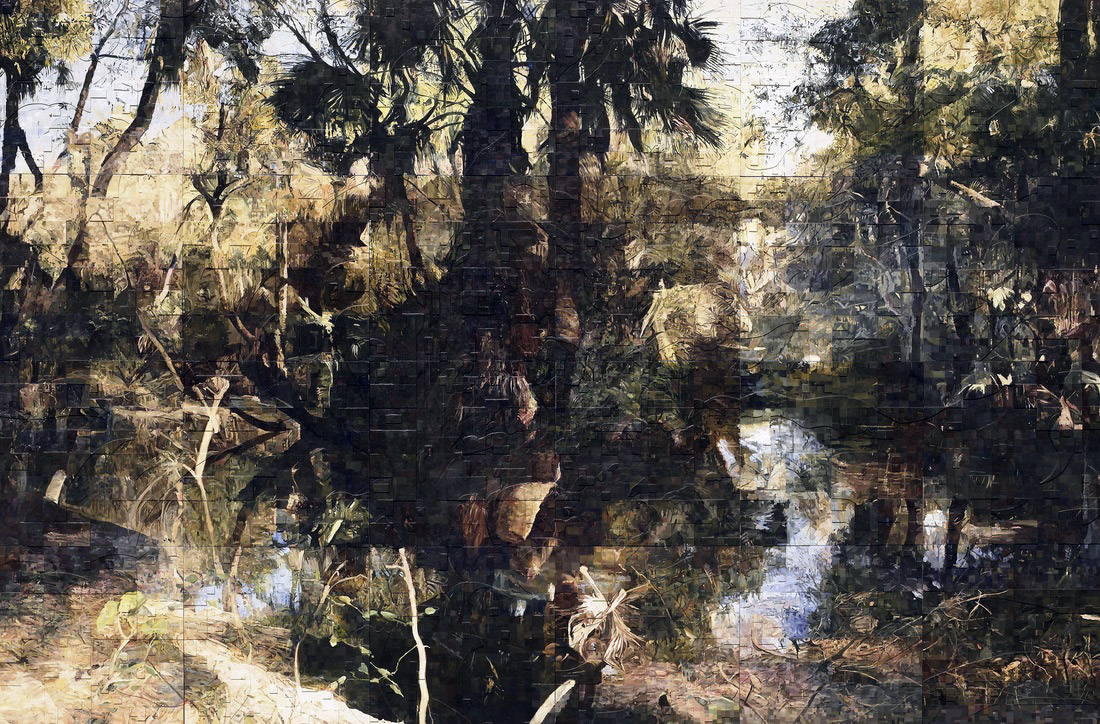 Myakka Fork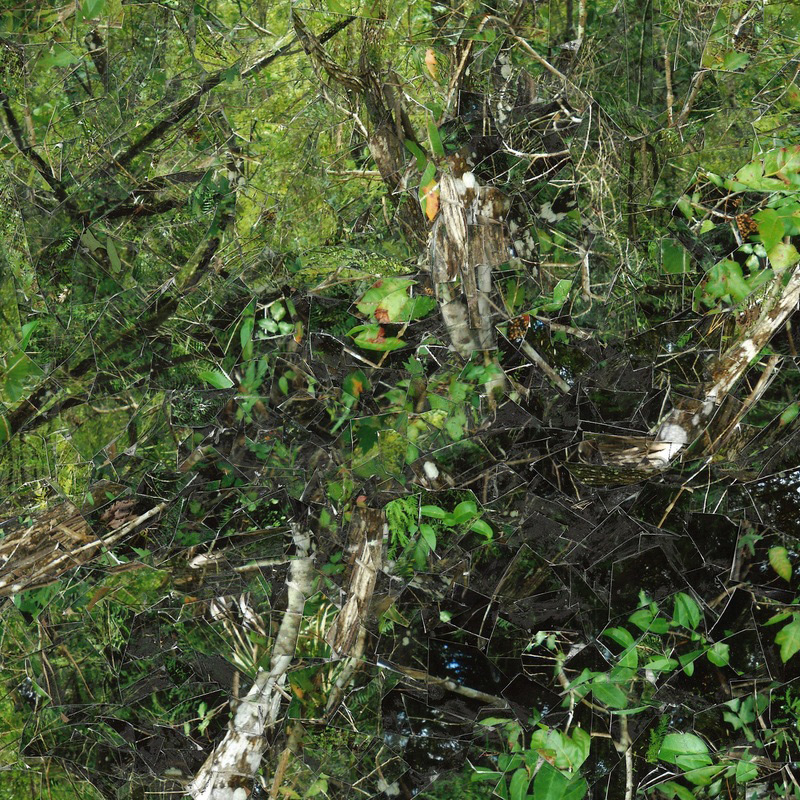 Dance of the Strand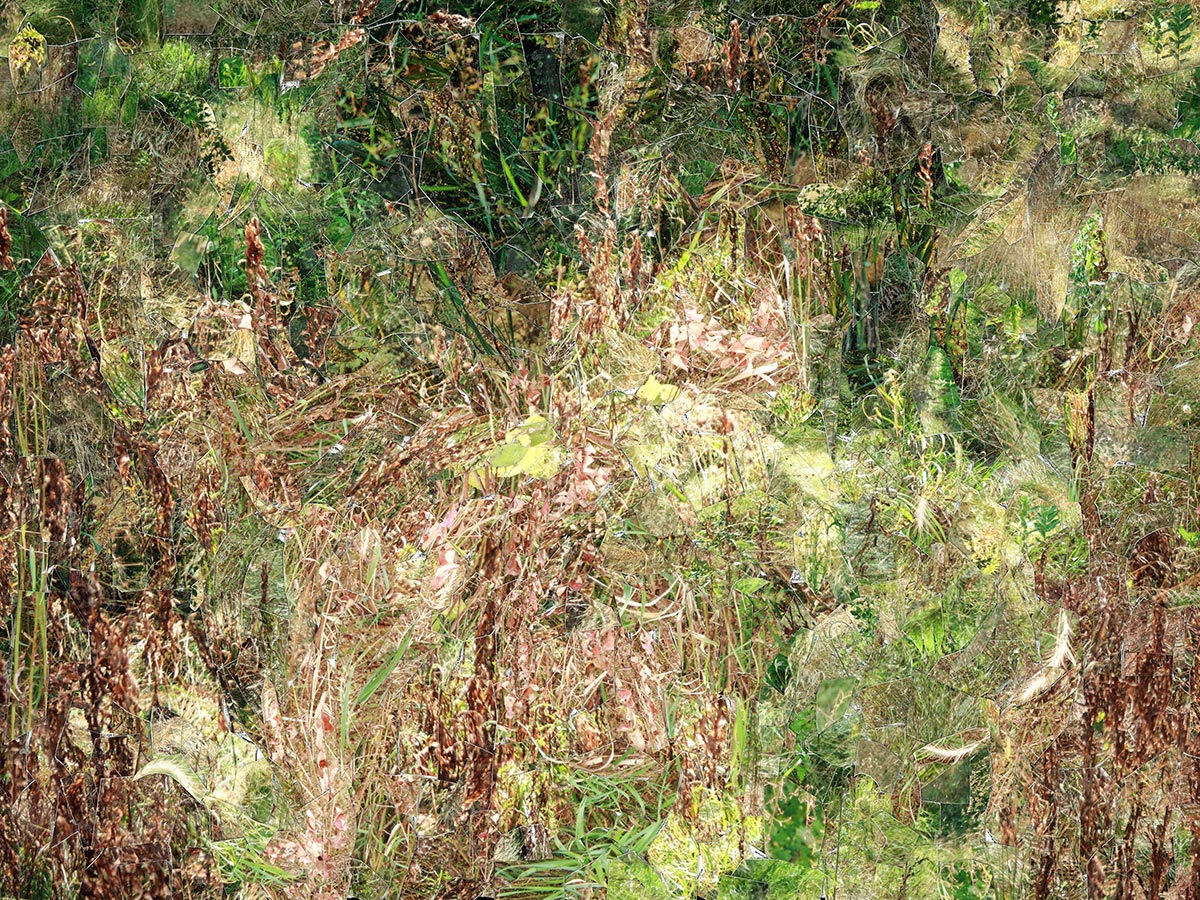 Prairies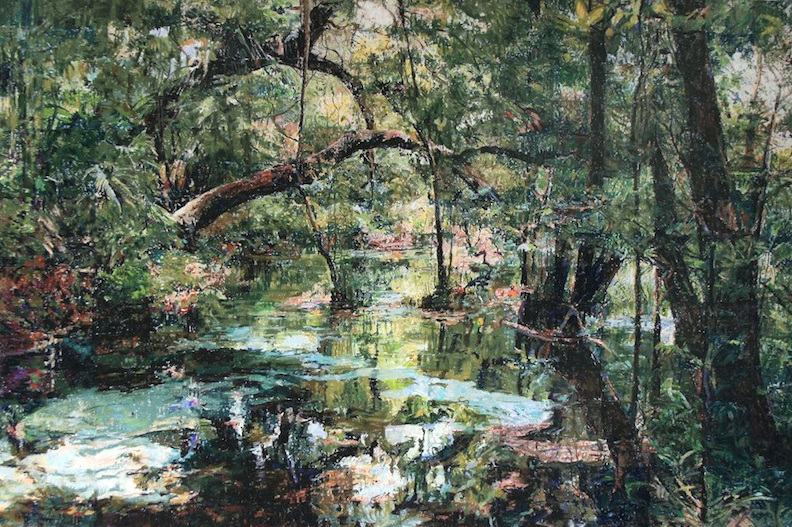 Springs